About Hybris
SAP Hybris is a recognized leader in commerce platform technology offering a complete omni-channel commerce platform that incorporates Web, mobile, call center and store solutions. SAP Hybris helps businesses of all sizes on every continent sell more goods, services and digital content through every touch point, channel and device. SAP Hybris' solutions provide a single view of customers, products and orders across multiple demand and delivery channels, made possible by state-of-the-art master data management and unified commerce processes for all channels.
SAP Hybris Commerce suite is divided into 4 mains packages:
• Product Content Management (PCM/PIM)
• Commerce
• Channel (WCMS, Mobile, Print)
• Order Management (OMS/WMS)
All these packages rely on basic functionality (Data Validation, Persistence, Clustering, Security, Search, Caching, Reporting etc.) provided by the Hybris Platform.
Gartner has placed SAP Hybris as the leading Digital Commerce platform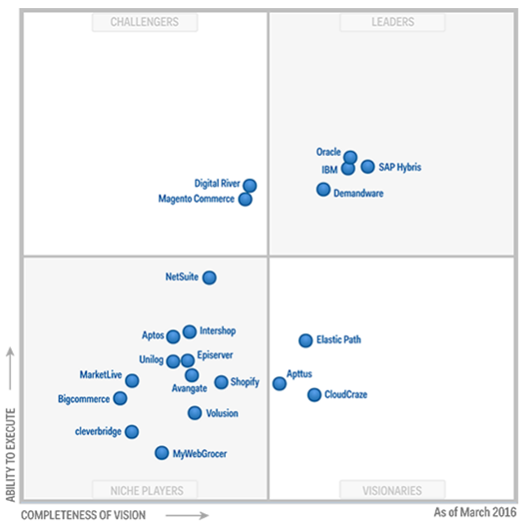 Hybris Training Content
For detailed Hybris course content please send us an email to aksonsoft@gmail.com or feel free to make a call on +91-9618002411 we will get back you with all the details.
Hybris Online Training
Types of Sap Hybris Training and eligibility:
1. Technical: Requires a good working knowledge in Core Java, Java Web Application, and spring (Essential: Core, MVC; Good to have: AOP, Security)
2. Functional: Basic knowledge of XML is required. The knowledge of Java is not required. However, the candidates must be good in business analysis and communication.
Pre-requisite for the Hybris Online Training
1. At least 8 GB RAM
2. SAP Hybris wiki account (https://wiki.hybris.com)
About the Trainer
ASOnlineTraining believes in a long term relationship and therefore we took utmost care while searching for a good trainer. It took us a long time before we finalized the trainer. And, we are more than happy that we succeeded to get one about whom there is long list of candidates who have not only given 100% positive feedback rather they have been even asking their best friends to join us and this is how we have been progressing. We have trained more people in SAP Hybris than the number of candidates trained by all other institutes put together. We can proudly claim that our SAP Hybris trainer is the best in this domain. It is not something we claim to attract people; no, many-a-times our trainer has even rejected candidates who do not pay attention to the Hybris Training , asked us to return the fee (on pro-rated basis) and accept it only after the candidate promises to put back the required effort and attention to the Hybris Online Training . Despite all the success, we regularly collects feedback from the candidates and send them to the trainer. In fact, more than us, the trainer keeps asking us for collecting the feedback and passing on to him regularly in order to rectify any issue that come to our knowledge. The trainer has more than 14 years of IT experience which includes more than 7 years in eCommerce itself. He has played various techno-functional roles at various levels in Java/J2EE based application development. He has trained more than 30+ batches (includes all technical and functional batches) so far.
Note: Technical and Functional batches are separate